FinLab@ Swedbank
More information: https://ziniuterasa.swedbank.lt/finansu-laboratorija
Status: Completion 2018
Location: Vilnius, Lithuania
Program: Interior and exposition content and design. Finance lab for interactive economic lessons dedicated to pupils of the 9-12th grades and after-school space for children.
Space: 240 m²
Interior: Vytautas Biekša, Marius Kanevičius, Rokas Kilčiauskas, Eglė Matulaitytė, Martyna Kildaitė
Exposition: Vytautas Biekša, Marius Kanevičius, Eglė Matulaitytė, Vilija Biekšaitė, Tomas Umbrasas, Rita Karklytė, Akvilė Mikalauskaitė, Andrea De Luca, Vaidas Gecevičius, Neringa Džiugelytė, Diana Romančik, Nerijus Šimkus, Žygimantas Liutkus, Karolis Sipavičius, Liudas Ubarevičius, Algimantas Lazauskas, Ieva Auželytė, Rytis Šimku, Rytis Kazakevičius, Šarūnas Čiočys, Deividas Krunkauskas, Martyna Kildaitė, Adelė Dovydavičiūtė, Justinas Malinauskas, Karla Gruodis, Ričardas Marcinkevičius, Kęstutis Vanagas, Dovilė Grigienė, Nerijus Mačiulis, Antanas Sagatauskas, Jūratė Cvilikienė, Rasa Rambynaitė, Rima Olberkytė-Stankus, Jūratė Gumuliauskienė, Tadas Gudaitis, Rasa Jauniškienė, Vaiva Šečkutė, Lukas Neverdauskas
Thank you: Lithuanian Free Market Institute, Money Museum of the Bank of Lithuania, Statistics Lithuania
Photography: Norbert Tukaj

Swedbank's Finance Lab welcomes its visitors in a bright space of almost 250 square meters, functionally divided into 2 areas – an after-school activities area for children and the Finance Lab. Physically, the two areas are divided by a free-standing transparent acrylic cube which accommodates the quiet area – a library – for homework purposes, and a mini amphitheatre.
On one side of the cube, there is an area for after-school activities with homework desks lined along the window. Due to their material and colour the desks shadow and merge into a single line the black window frames of the bank's building and the structural columns along the windows. Along the back wall of the space there is a transformative piece of furniture – a wall – made out of yellow ethylene-vinyl acetate. This piece of furniture separates the play and meeting area from the utilitarian space, namely, a corridor leading to a WC and the kitchen unit.
The space on the other side of the cube houses the Finance Lab dedicated to financial literacy education for children in higher grades.
The Finance Lab space is white and minimalist with the exception of the black furniture edging tape continuing along the windows. In between the columns there is a rest – sitting – area. The space incorporates exposition elements highlighted by way of colour – physical wheels representing the relationship between society and its citizens, colourful pull-out drawers on the wall representing the structure of income and expense of an individual with extra information inside the drawers, and a sand game table teaching about balancing and trade. The interactive exposition includes 8 human-size screens. The screens are grouped in pairs and are hanged from the ceiling in a single line leaving the space underneath open and transparent. The black perforated furniture edging tape organically envelops the black screens and echoes dark furniture edging along the windows. The touch screens include games and interactive information about the fundamentals of economics, i.e. resources and their limited nature and trade, also provide practical information and let you play simulation games on the topics of planning, saving, employment, borrowing and wealth accumulation.
The areas organically merge through the use of white floors, walls, ceiling and the bright yellow foam cubes used for education, sitting and games and the dynamic movement in the space.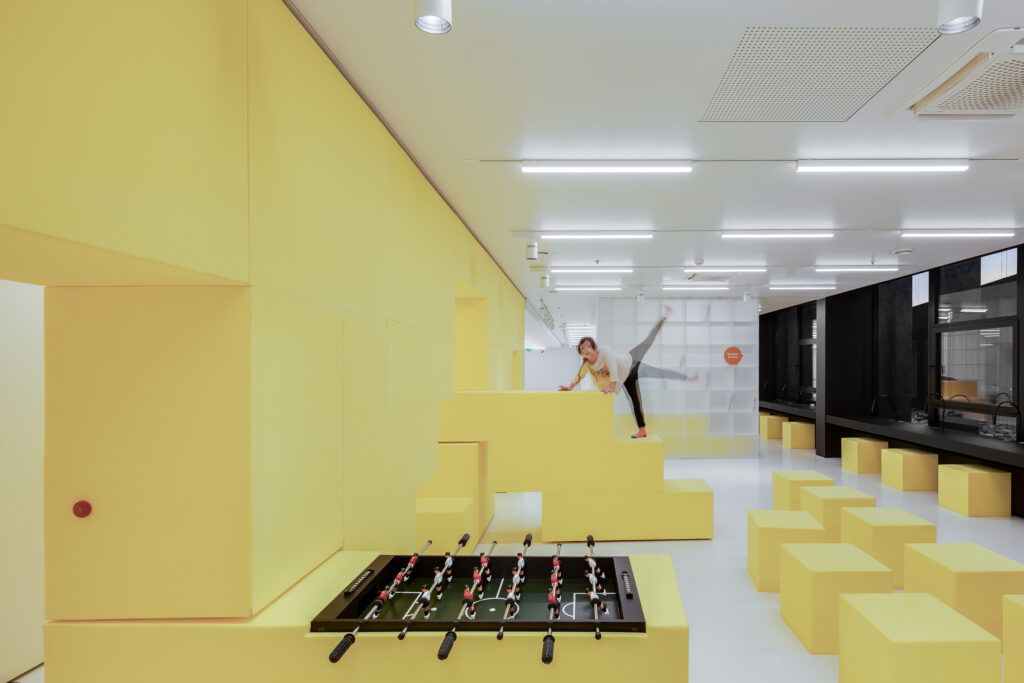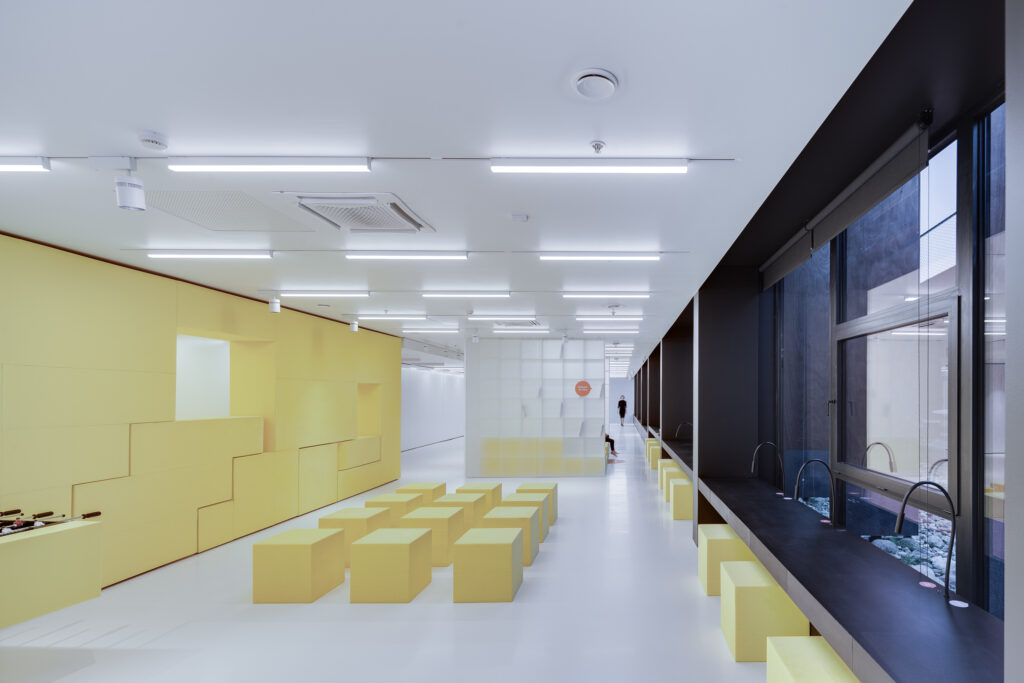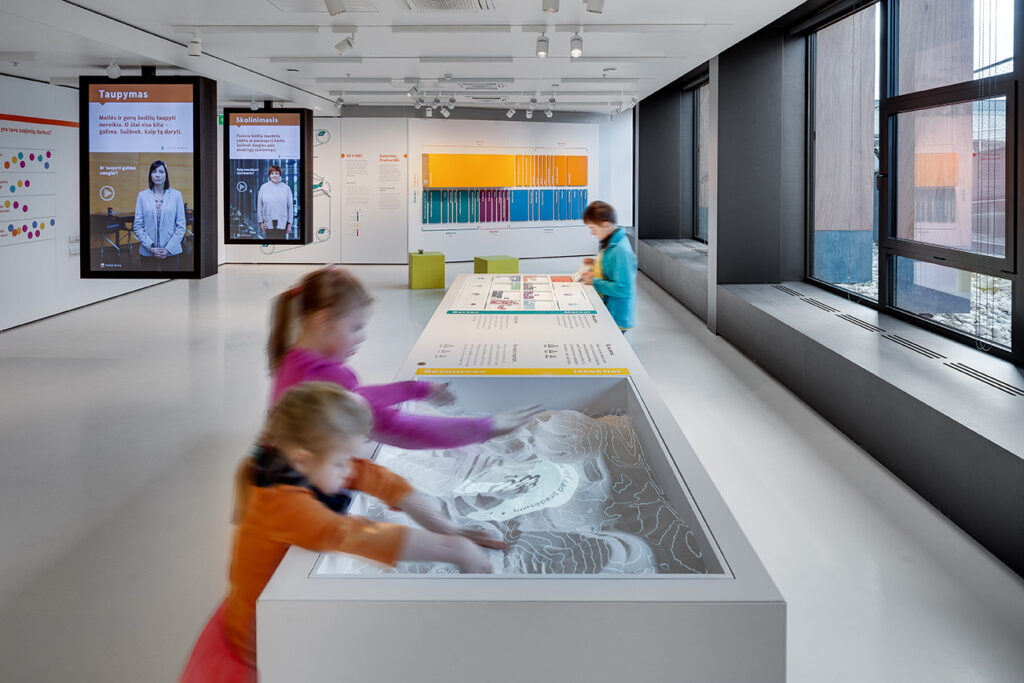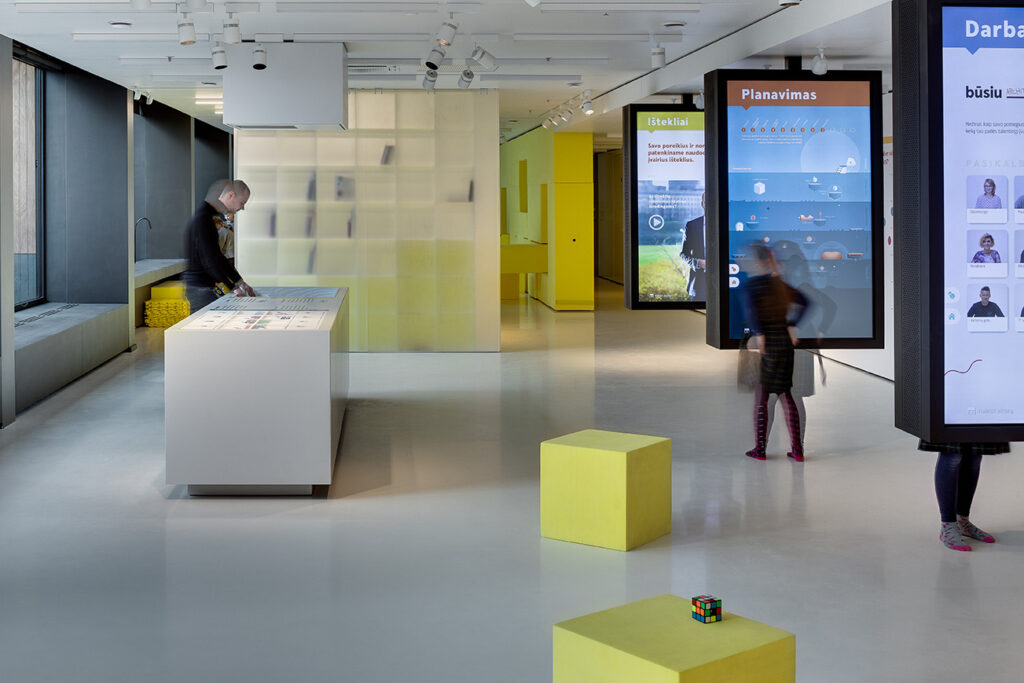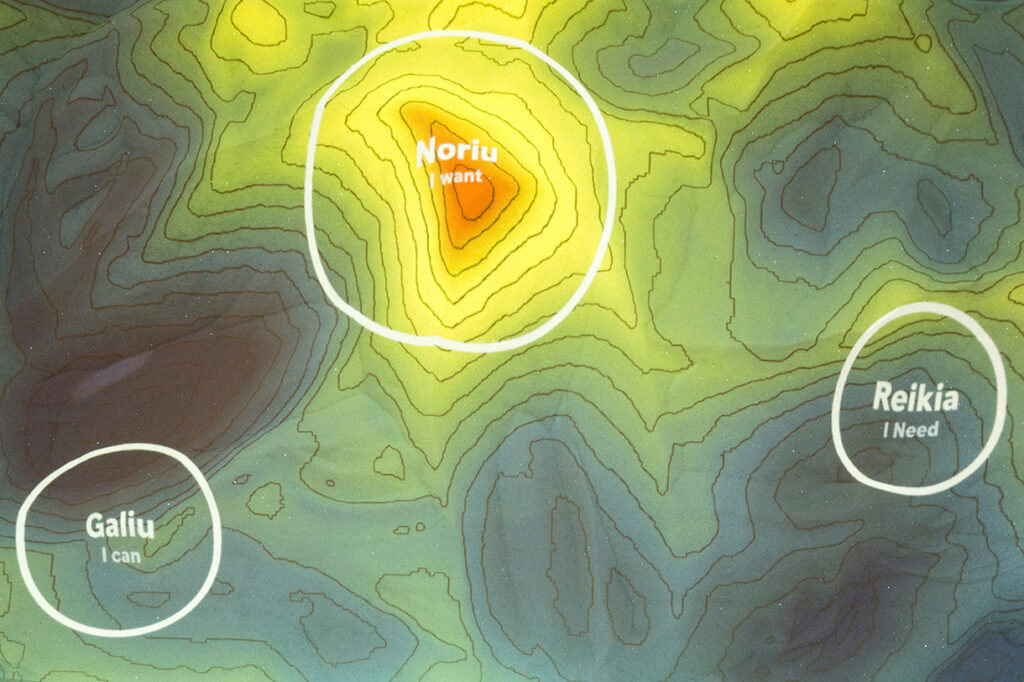 1/